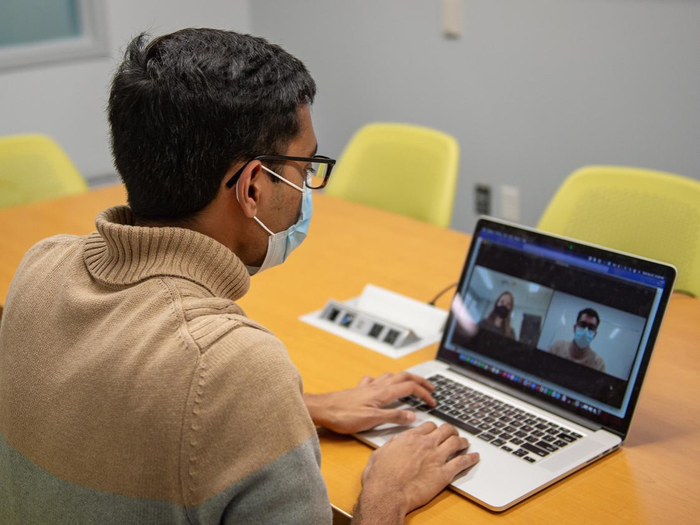 In March 2020, students at countless universities suddenly began taking online classes as the COVID-19 pandemic swept the globe. But what students were experiencing during that time wasn't online learning, according to Sandeep Krishnakumar, an industrial engineering graduate student, but telecommuting — and that distinction can lead to best practices for both online and physical classrooms.
Krishnakumar and a team of interdisciplinary researchers examined the experiences of first-year engineering students during the transition to online learning and its impact on their performance. Their results were made available online at Journal of Engineering Education before the official release.
"In online learning, people choose to study online, and there are certain practices that are followed for courses that are designed to be taught online," said Krishnakumar, first author of the paper. "But the pandemic forced both students and teachers to suddenly and involuntarily adapt to online teaching. By viewing the student experience as remote working instead, we can better understand the implications of this sudden shift to online learning."
Researchers then used the workplace success theory to draw conclusions about students' learning experiences. Thriving, as defined by the theory, is a state of engagement that requires both vitality—a person's ability to feel energized by their work—and learning, in which a person feels they are developing knowledge and skills.
To understand students' pedagogical engagement in the new, teleworking-like circumstances brought about by the pandemic, the researchers surveyed students in an introductory engineering course. This hands-on, project- and team-oriented course is required for first-year engineering students. The research team interviewed 121 students and conducted follow-up interviews with 13 students.
When surveyed via Zoom, the team asked questions about how the transition impacted participants' learning and teamwork, and asked specific questions to understand the initial responses in detail.
In analyzing the interview transcripts, researchers used an iterative process to identify four main themes that characterized students' experiences after transitioning to online learning. The themes were interpersonal relationships, the building and transmission of knowledge through interactions, perceptions of experiential learning, and individual behaviors. Each topic had sub-topics that were linked to other sub-topics. For example, the camaraderie sub-theme rooted in the interpersonal relationships theme was also linked to the perception of motivation sub-theme for the individual behaviors theme.
The responses to each topic showed differences between the students. For example, while some students felt a sense of loss due to limited access to certain learning opportunities, others said the transition prompted them to solve problems in new ways and helped them build flexibility for such unexpected situations.
"It's really important that students present these obstacles as a form of problem solving," Krishnakumar said. "For the students who saw the challenges in this way, it encouraged them to think outside the box – which, as a form of learning vital to engineering, is a means to success."
The researchers also found that while many students' social relationships suffered from the pandemic, some students compensated for the loss through teamwork. This underscores the need for interpersonal relationships in engineering classes, because vitality — and therefore thriving — depends in part on the ability to relate to others, Krishnakumar said. Relationships with teachers were also affected by the shift, and students who were unable to maintain a connection with their teachers during distance learning found their engagement in class decreased. However, the researchers noted that instructors may not have been adequately resourced to teach online during the rapid transition.
Jessica Menold, assistant professor of Hartz Family Career Development at the School of Engineering Design, Technology and Professional Programs, said this research can help educators and students find strategies to improve educational experiences for other unexpected situations.
"This work confirmed things I had observed in my own classes," Menold said. "In an online environment, you have to consider things that you didn't have before. The study, led by Sandeep, has shown how much more complex the introduction of technology adds to the classroom."
Catherine Berdanier, Clyde W. Shuman Jr. and Nancy Shuman Early Career Assistant Professor of Mechanical Engineering, and Sarah Ritter, Associate Teaching Professor in the School of Engineering Design, Technology and Professional Programs, at Penn State; Torsten Maier, Assistant Professor of Industrial Engineering at Kettering University; and Christopher McComb, Associate Professor of Mechanical Engineering at Carnegie Mellon University, also contributed to this work.
The National Science Foundation supported this work.
---
diary
Journal of Engineering Education
article title
Using the workplace success theory to examine the abilities of first-year engineering students to be successful during the transition to online learning due to COVID-19
Article publication date
January 7, 2022
Disclaimer: AAAS and EurekAlert! are not responsible for the accuracy of the press releases published on EurekAlert! by contributing institutions or for the use of information about the EurekAlert system.