Josh Hicks pointed to the corner of a computer screen and guided the mouse, controlled by one of his teenage students, to make one final click.
Immediately after the push of a button, an automated lathe whirled to life nearby, positioning its sharp, V-shaped tip over a wooden panel fixed to the machine's worktable.
Hicks stood back and watched the curiosity of his Handy Hicks Skill Building Class of 24 aspiring artisan men and women, along with their parents.
As the robotic blade struck the wood, cutting down and side to side, the piercing sound of friction echoed in the open garage of Handy Hicks' shop near the corner of Portland Terrace and Homosassa Trail.
Over the noise, Hicks once again explained to his class of young trainees how the computer numerical control, or CNC milling machine, uses software and code to create precise etchings on a 3D axis.
After a few minutes, the device stopped to wait for the next command. Hicks removed the small slab of wood to reveal his student's engraved name.
Another lesson taught, another memory made.
Wednesday, March 16, was the 10th of 12 weekly professional development classes at the free, non-profit Handy Hicks Skill Building Class offered for a second year to youth ages 10-18.
Hicks, an insured handyman, started his program in 2021 to not only teach the fundamentals of skilled work, but also to impart invaluable work ethics and life lessons to receptive and growing minds.
"And that's pretty important," he said, "to think about when you're of legal age to make a lot of money or make purchasing decisions … to have that experience, to build confidence, certain things that would outperform you."
Each Handy Hicks course focuses on a specific trade or craft – from drywall, welding and tiling; for cooking, sewing and changing tires and oil of a vehicle.
Hicks and his partners from local businesses and organizations donate their time, tools, materials and knowledge to provide hands-on demonstration and guidance in their specialty.
"It just goes to show that community support is an improvement in our future," Hicks said. "It brings the community closer together"
Hicks said he's always working to tweak his curriculum to make it as interactive as possible.
"When they enjoy it, they are more engaged and remember better," he said of his students. "I can see its impact in every class and it's amazing."
Citrus Construction Academy board members hosted the Handy Hicks class on Wednesday, bringing in the CNC router so students could personalize their own wooden nameplates.
The Bauakademie receives a share of the state budget
Academy President Harold Walker instructed the Handy Hicks class how to apply a layer of Oramask vinyl tape to their plaque before taking it to Hicks for engraving.
"Do you know who goes first?" Walker asked before half the class threw up their hands.
When cutting into the wood, the lathe also removed that section's Oramask and gave the students a stencil to spray paint and highlight just the lettering.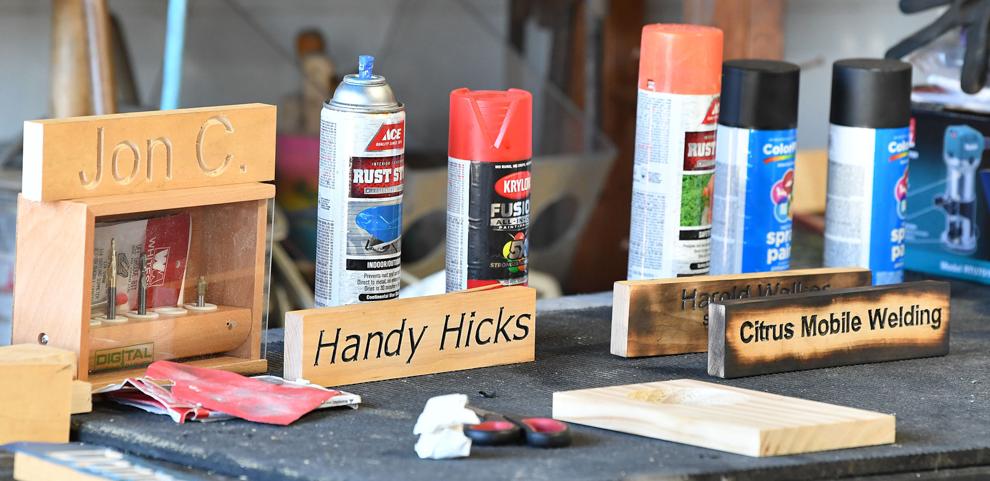 Moms and dads waved cellphones to take photos and videos of their kids at work.
"They have fun studying on their own … or they enjoy the break," Hicks said of the parents' presence, "but they understand what the classes are for and they see their[child's]confidence grow here and there." home is surpassed . It's a very overwhelming and amazing experience."
Stacie Yule, from Inverness, said Handy Hicks helped introduce her 11-year-old son Nathan to jobs and careers he didn't know existed.
"He really enjoyed it; it opened his eyes to something he hadn't thought of or thought of," Yule said. "He spoke more about the possibilities for the future that aren't the typical ones."
Nathan said he's looking forward to putting his newfound expertise to the test at home.
"I hope to use them in my life and remember them," he said, "so that in the future I can use them to help my family and friends when they need it."
With the help of the Building Academy, Handy Hicks students built their own wooden toolboxes during their first class to house basic equipment, which they got to keep.
Walker said the academy and Handy Hicks are "in complete lockstep with each other" toward a shared mission to provide a multitude of opportunities for younger generations.
"We need to create opportunities for children," he said.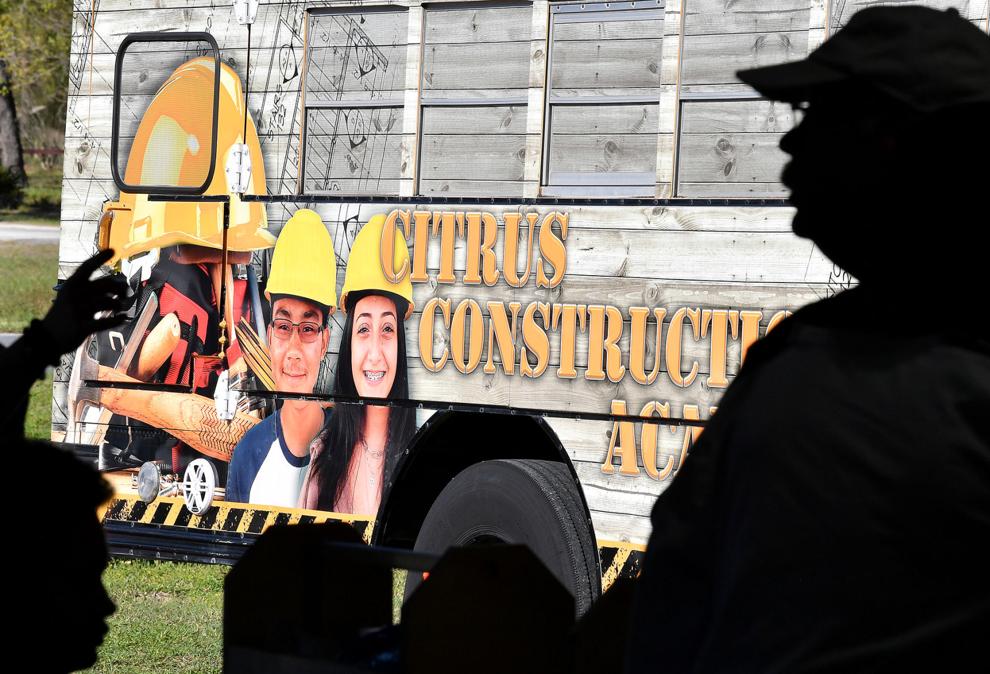 Welding was one of Handy Hicks' favorite courses.
"When the hell do you get the chance to do that another time?" Yule said.
Nathan said he also enjoyed learning how to install and repair drywall.
"So if someone like my sister punches a hole in the wall, I can fix it," he said before chuckling. "I'm just looking forward to learning something so I can use it whenever I need it."
Pamela Rutzebeck, of Pine Ridge, said her 14-year-old grandson, AJ Madison, already has his own auto detailing and home improvement business, AJM Enterprises, but now has some new interests, like tinkering with cars, thanks to Handy Hicks.
"AJ is a very enterprising young man anyway, and quite a handyman himself," she said. "He adds that, that's for sure. … He acquires the skills and will apply them to his future."
"Well, class is pretty much over, but I'm going to take all the things I've learned home with me," AJ said. "I'm thinking of building a wall in my garage and tiling it for practice."
Registration for next year's Handy Hicks course begins in January. Call Hicks at 352-436-3105 for more information.
Hicks said he hopes local school and government officials will seek to implement and approve similar programs that will engage and empower youth for years to come.
"Viability and opportunity aren't always a construct, but they work hand-in-hand," he said. "Hopefully we can connect the right people to continue to expand; It could be introduced to a larger part of the community… Let's wake up and get to it."