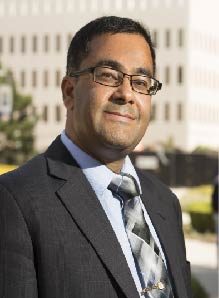 The American Society of Civil Engineers, the nation's largest engineering society, presented its 2022 Edmund Friedman Professional Recognition Award to Binod Tiwari, Associate Vice President, Research and Funded Projects, for his dedication to advancing the science and profession of engineering.
One of the society's most prestigious awards, the honor recognizes Tiwari, who is also a professor of civil and environmental engineering, for his years of mentoring young civil engineers and serving on committees promoting the geotechnical profession, according to Jane Alspach, director of honors and awards at ASCE.
Since 2006, Tiwari has mentored nearly 250 high school, community college, undergraduate, graduate, and graduate students in diverse research projects that have resulted in more than 260 publications.
"Seven of his former students have PhDs or are in the process of doing PhDs; two have applied for academic tenure track positions and a third is currently applying for such positions," Alspach said. "These students were heavily involved in ongoing research projects related to the research interests of Dr. Tiwari."
One of Tiwari's most notable contributions to the advancement of geoengineering is his six years as Director of GeoChallenges, a series of five annual competitions that draw graduate and undergraduate students from around the world to participate in friendly, high-energy events that introduce them to geoengineering profession and integrates them into society.
"The GeoChallenge is among the most successful ASCE programs, bringing together students for ASCE members from both academia and industry," said Tiwari.
ASCE has presented the Friedman Award since 1960 to recognize the "importance of professional achievement in the advancement of science and engineering," and all of the organization's 150,000 members are eligible to receive it, according to the ASCE website.
Criteria include: exemplary professional conduct on a specific outstanding case; professional advice to qualified young people who choose to become civil engineers; and sustained performance in improving the conditions in which professional engineers work in public and private practice. Tiwari was nominated by its chairman on behalf of the Society's Student Involvement Committee.
"When I saw the names of the last 62 recipients of this award over the past 62 years, I was amazed and grateful that ASCE considered me qualified to be included in their list of such distinguished individuals in civil engineering," said Tiwari. "This recognition is a testament to the civil engineering education and practice that we follow at CSUF. This will definitely open doors for our faculty colleagues in the department and our students to open our dialogue with other civil engineering colleagues in the region, in the country and beyond."
Tiwari said he was honored to receive the award but was most proud of the work that nominated him, particularly working with CSUF students who participated in GeoChallenges. They are regularly invited to the national competitions and in several years have received the first three awards in all competitions, including first place in Geowall, GeoPoster and GeoShirt.
"Over the past 16 years as a Titan, I have mentored hundreds of graduate and undergraduate students who have expressed interest in all five GeoChallenge competitions," said Tiwari. "In fact, we've won four national and six regional champions in the GeoWall competition. Our students' interest in these competitions was the main reason for me to volunteer to lead the GeoChallenges. Our students presented us very well on the world map."
Carolyn Thomas, CSUF Provost and Vice President for Academic Affairs, said Tiwari's honor recognized the tremendous success he had in civil engineering and his dedication to promoting the success of others – qualities he nurtured now as head of the Bureau of Research and brings projects into the CSUF.
"This is a very high honor in his field," said Thomas. "It's great to see him receiving recognition from his peers for his work in civil engineering and for promoting faculty research in general. As a campus community, we benefit from his expertise and passion for mentoring and research."