After 37 years as a coach at Wabash, Robert H. Johnson H'77 may have retired in 2008, but he certainly hasn't slacked off or shied away from the opportunity to mentor.
"Coach Johnson has been bringing people together for more than 50 years," said Clyde Morgan, head track and field coach and associate director of the Malcolm X Institute of Black Studies (MXIBS), of the college's first-ever Black head coach, who joined the team in 1971 .
"Without him, Wabash College would not be what it is today."
When not visiting campus to attend events or check out students at MXIBS, you can often find the Hall of Famer on the sidelines of practice sessions and meetings on the track and off-road. Whether on campus or on the road, Johnson volunteers his time to cheer and encourage student-athletes while taking notes and providing wise advice to coaches.
"He loves the program and wants it to be in the best place possible," said Tyler McCreary, who joined Wabash in 2018 as Head Cross Country Coach and Associate Head Track and Field Coach. "Coach Johnson gave me confidence and trust from the start, just like he did with the other coaches.
"He's always there and did a phenomenal job of sitting back and allowing Coach Morgan, me and the other assistant coaches to run the thing. He lets us take the lead and allows us to do things the way we want to do them, and then he jumps in whenever he feels it's necessary," McCreary said.
"That's what I've enjoyed about him and appreciated over the years. The fact that he accepted that," he said. "It's very difficult for someone who's been in the game for as long as he has to be in the back seat. But Coach Johnson is very willing to do that and that's a big part of what makes him a great coach and a great mentor."
family comes first
McCreary, Morgan, John Bute and Emile Conde all name Johnson their mentor. The former US Olympic coach has not only helped them all grow as coaches at Wabash, but also in their personal lives as men.
Morgan recalls the first conversation he had with Johnson when he came to campus for a coaching job interview in 2008. The two took a walk at Knowling Fieldhouse. The conversation began with improving the program, which had only been managed by two head coaches since World War II.
When they got to the first loop, that focus shifted.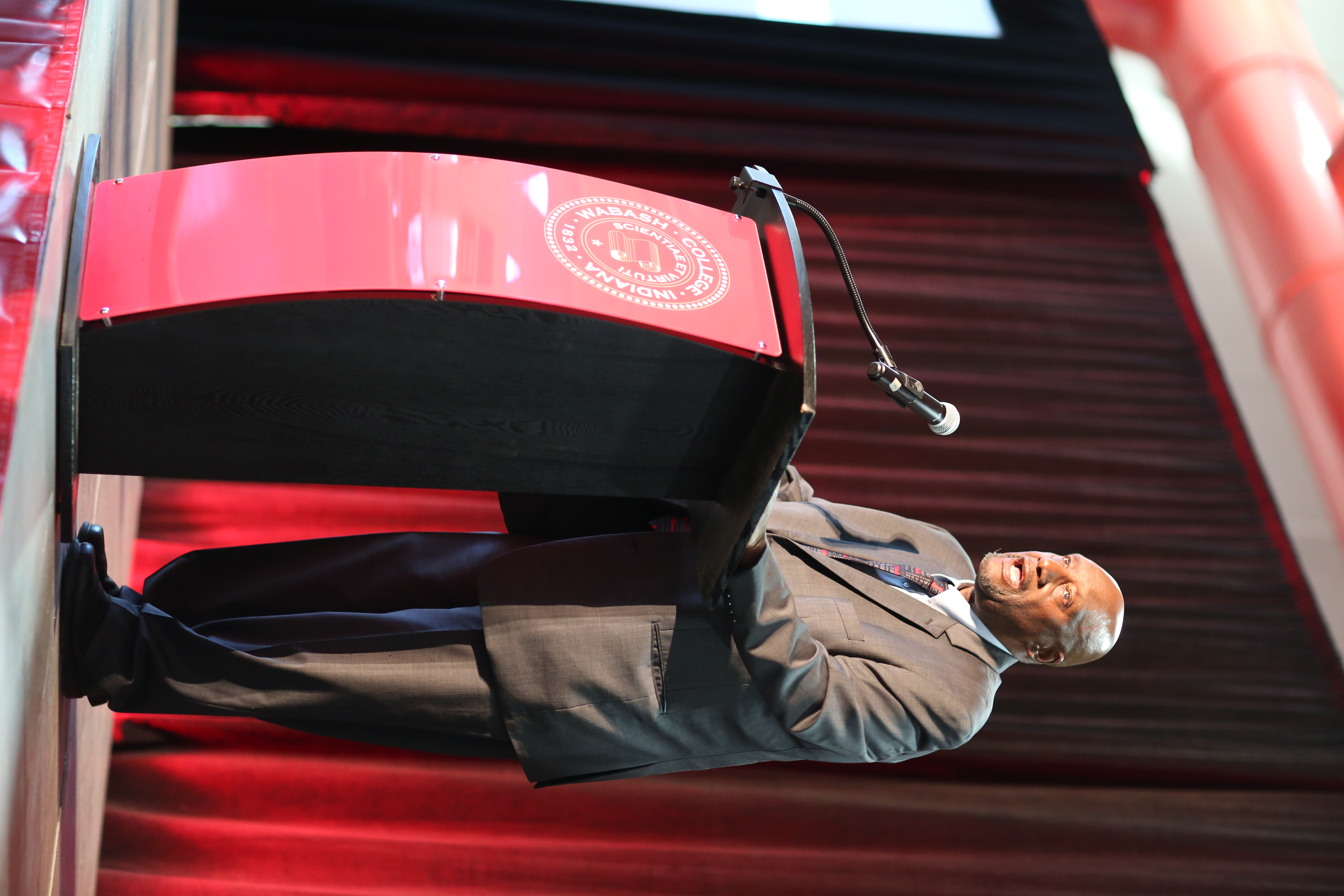 "We started talking about our family and our lives and remember I had just met the man," Morgan said. "He told me later in the interview, after attending a few sessions, 'Whether you get this job or not, I have to tell you something because I realized what kind of coach you are. Keep doing what you are doing, but don't spend more time with other people's children than you do with your own.'
"Coach Johnson always tells me, 'Do it because I didn't do it,' especially when it comes to family. He opens his heart and admits where he's made mistakes as a father over the years and what he would have liked to have done with his own children. He really helped me understand how hard it is to be a coach's kid and wife."
One of Johnson's biggest compliments to Morgan came five years later, in 2013, when the college hosted a clinic at the Feldhaus. Unbeknownst to him, Johnson snapped a photo of Morgan's little three-year-old daughter drawing on a dry-erase board next to her father while he wrote down demos, exercises and workouts.
"It was normal for me and my wife, Jennifer, when she was coaching basketball at Thiel College. We've always brought our kids with us so they're close to our teams during practice and on campus," Morgan said. "When Johnson showed me this picture about two weeks later, he said, 'That's what I'm talking about. That is the difference. You involve your children. It's so important to keep our families involved."
"Those were our talks. We do talk about track-related things, but to be honest, that doesn't happen very often," said the athletics head coach. "It's about many things in life and how to develop young people."
develop young people
Among those youngsters is Bute, an assistant track and field coach for the Little Giants who joined the Wabash staff in August 2020 at the height of the COVID-19 pandemic.
Bute said Johnson was there from the start to support him.
"When I first started working at Wabash, I remember the first time Coach Johnson approached me with his 'Wabash Always Fights' mask and the first thing he did was show me these makeshift devices , which he built for throwers to help them with training. He said, "I've got these here just in case you need them. Let me know if you need anything,'" Bute said.
"I would say that's just the epitome of how he treated me. Every time I see him it's, 'How are you? How do you feel? Good life? How can I help you?" Bute explained. "Coach Johnson is all about the culture. He's incredibly kind to everyone he meets, which just blows my mind when I think of how old he is and how many kids he's worked with over the years.
"He has this very nuanced, old-school way of coaching. It is based on the fundamentals of true compassion and energy for people. Coach Johnson does this every day, every time he interacts with our staff and students."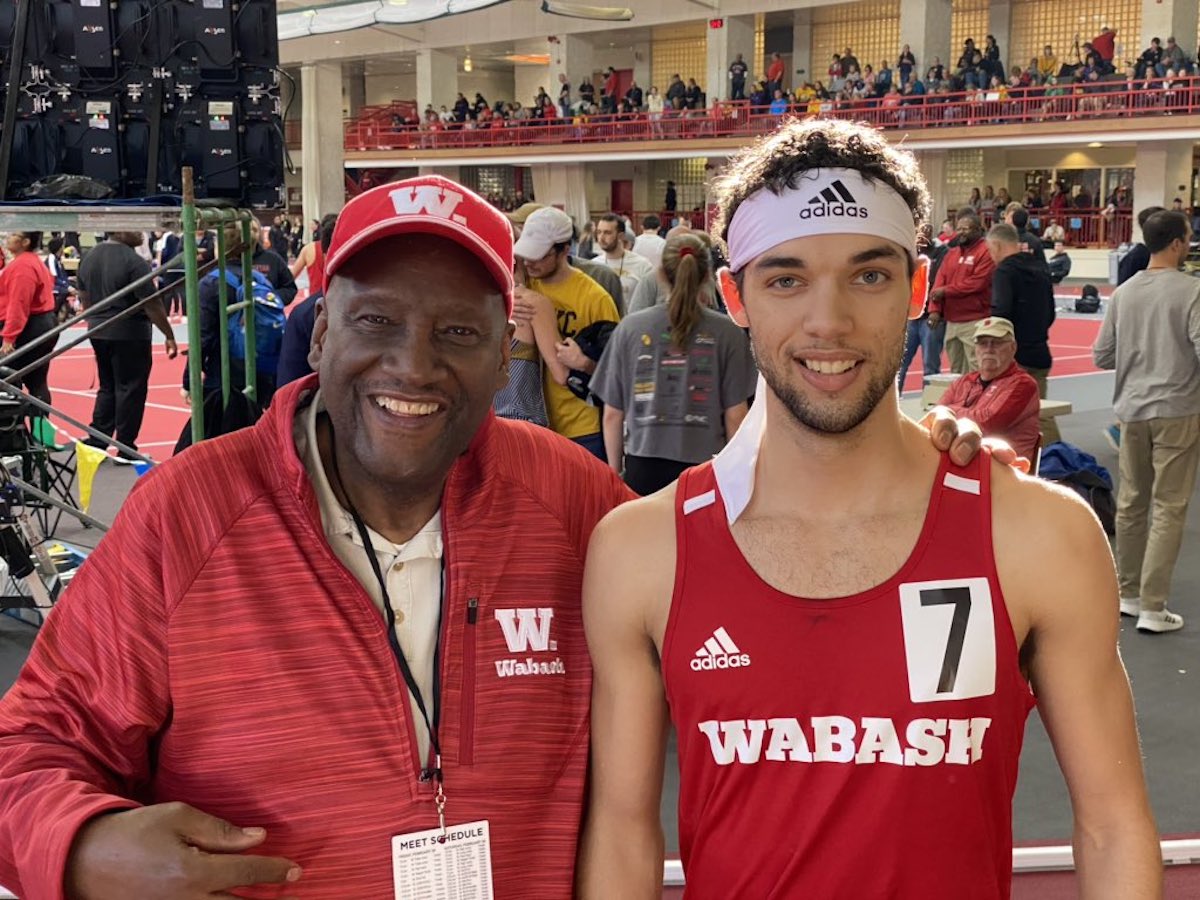 Watching Johnson interact with the students was also very fulfilling for Conde, assistant track and field (jumping/multi-events) coach who joined the coaching staff in 2018.
"Everyone loves Coach Johnson and it's always a great exercise when he's around because the students are listening to what he has to say. They look up to him and listen because they know when this guy talks, he knows what he's talking about," Conde said.
"And he enjoys it. He's always laughing and cracking jokes," he said. "When someone is nervous, they realize it and make an effort to be there for them. Then later you'll see her smiling and laughing because he got her out of that headspace. He pushes students out of their comfort zone."
One of the greatest lessons Conde Johnson has taught over the years is the importance of constant learning.
"You can't just get stuck in your own ways because you're never going to improve," Conde said. "Coach Johnson taught me what it takes to develop our student-athletes. It's about them growing, not just as an athlete, but first as a person and then as an athlete. That takes patience and perseverance."